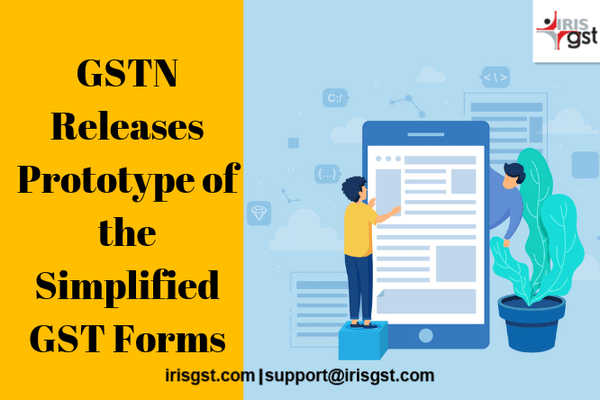 In order to simplify the taxation system in India, the 27th and 28th GST council proposed and laid rules for the implementation of new simplified forms for the taxpayers in the country. These simplified forms were expected to be introduced in the GSTN portal from April 1, 2019, on a pilot basis. However, in the absence of proper bifurcation and underdeveloped software/forms, the same had to be deferred until an unannounced date.
Dated May 24, 2019, the GSTN portal finally released a web-based prototype of the offline tool for the new simplified forms. The mock prototype of the simplified form has been introduced to provide the stakeholders with the look and feel of the new forms, to get their review on the same before it goes live for all the registered taxpayers.
Some of the functionalities of the offline tools include
Drop Down Menu,
Invoice upload,
Upload of purchase register for matching with the system created inward supplies, etc.
The Simplified GST forms are bifurcated in 3 parts
FORM GST RET-1 (Normal Return): declaration of all types of outward supplies, inward supplies and take credit on missing invoices.
Monthly Normal
Quarterly Normal
FORM GST RET-2 (Sahaj Return): A quarterly declaration of outward supply under B2C category and inward supplies attracting reverse charge only.
FORM GST RET-3 (Sugam Return): A quarterly declaration of outward supply under B2C and B2B category and inward supplies attracting reverse charge only.
These forms will further be divided in 2 parts,
GST ANX-1 (Annexure of supplies): Details of outward supplies to be filed by the taxpayer.
GST ANX-2 (Annexure of Inward Supplies): Details of inward supplies auto-populated mainly from the suppliers' GST ANX-1.
Quick Read:
The prototype is a screen only layout of the Offline Tool. It has been implemented to help stakeholders familiarize with the new tool and review the same.
The screen is a demo version of the actual online tool, while the actual tool is under further reviewing phase to eliminate bugs and errors, if any.
The prototype being just a demo tool cannot make the arithmetic calculation and thus will not be able to show accurate results/summary to the data entered by the user.
With the release of the prototype, the new and simplified GST returns are expected to be released soon than ever. You can read a comparative analysis of GSTR 1 and New Return here.
IRIS Sapphire is a GST Compliance Solution from the house of IRIS GST. IRIS Sapphire offers you features such as Smart and Advanced reconciliation for your annual returns, Insights and reports to help you with your business management and a team of experienced customer support to help you at every hurdle of your compliance journey.
For any queries or to book your free demo with IRIS Sapphire, connect with us at support@irisgst.com.