Effective June 21, 2019, if a consignor, consignee or transporter fails to file his GST returns for 2 consecutive months he shall be barred from generating e way bills for the transportation of his goods. Similarly, for composite dealers, who are required to file quarterly returns shall be barred from E way bill generation, if their returns have not been filed for two consecutive filing periods i.e. six months.
The need for GSTIN blocking
Many a time, a taxpayer is unable to file his GST returns, intentionally or unintentionally. However, due to these missing invoices, the supplier is unable to claim ITC for taxes he has paid. Furthermore, the blocking of GSTIN for Eway bill generation is also being touted as an Anti-evasion step to shore up the revenue and increase GST compliance.
So, can the blocked GSTIN be unblocked?
If your GSTIN has been blocked on the EWB portal due to Non-Compliance, it can be unblocked as follows:
Automatic GSTIN unblocking
The GST Common Portal blocks the EWB generation in absence of GSTR filing for 2 consecutive months. However, as soon as the consignor, consignee or transporter files his GSTR 3B, the block status is automatically updated as 'Not Blocked' within a day in the e-waybill system and the taxpayer will be able to generate EWB once again.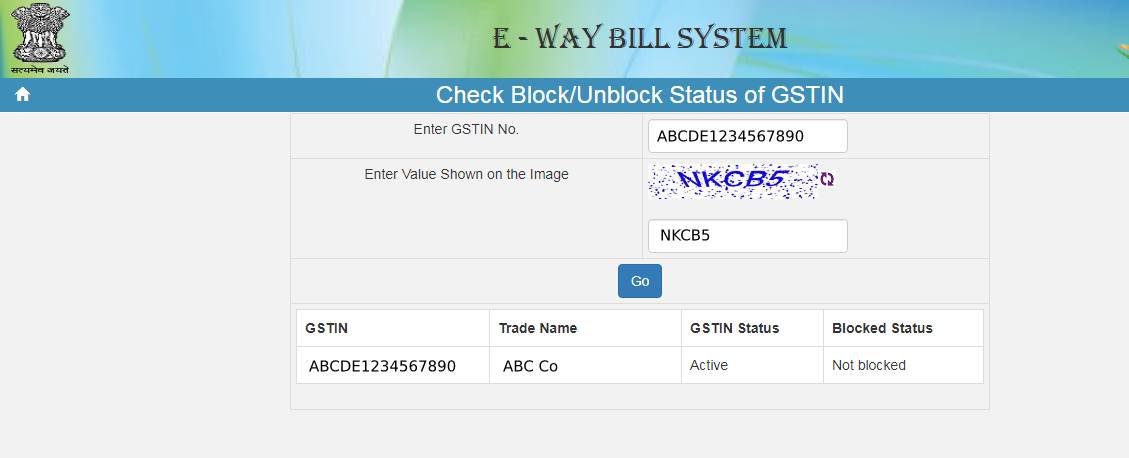 Manual GSTIN unblocking?
Generally, the common portal automatically updates the blocking status of the GSTIN within a day's time of GSTR 3B filing. However, in case you are still not able to generate Eway Bill, you can manually refresh the GSTIN block status on E-way bill portal as follows:
Select Update Block Status from the search tab.
Enter the GSTIN and Captcha Value
And click on 'Update GSTIN from Common Portal'.
This will fetch the status of Filing from GST Common Portal and if filed, the status in e-way bill system will subsequently get updated
GSTIN Blocking alert
If a taxpayer has not filed his return for more than 2 months, he shall receive alerts saying, "e-Way bill generation may be blocked after few days as you have not filed last two months successive returns at GST Common Portal" while generating Eway on the common portal.
IRIS GST is a leading GST Suvidha Provider (GSP) in India, providing an easy and efficient solution for GST (IRIS Sapphire) and E-way bill (IRIS Topaz) compliance.
For any GST related queries or to know more about our solution, please contact us at support@irisgst.com